Jo Vannicola
Film. 
Television. 
Voice.
Jo Vannicola began their professional career at the age of eight on sesame street and in vocal studios, and made their television debut in their hometown of Montreal. They ended up in Toronto to study and pursue their career, and by the age of 17 had written their first play. Credits include Love and Human Remains, written by Brad Fraser and directed by Denys Arcand, which earned Vannicola a Genie nomination for Best Supporting Actress. Jo reunited with Arcand for his film, Stardom, and won an Emmy for their work in Maggie's Secret directed by Al Waxman. Jo was also nominated for a Gemini award for best actress in a continuing role for the CBC series 9B, as well as an ACTRA award nomination for best  voice/animation as Toot in the animated series Toot and Puddle.
​Among their 70 credits in film and television is their most recent role as Sam, in CBCs Street Legal the reboot, and as Amber in Season 3 of Slasher: Solstice on Netflix, a recurring show with new characters each season. You can see them as Renee in Season 2 of Slasher: Guilty Party, currently streaming on Netflix. Jo was also in  the feature film, Stonewall, directed by Roland Emmerich, which premiered at TIFF: Sea Change, shot in Nova Scotia and directed by Chris Grismer for Lifetime TV.  They also worked on Girlfriend's Guide to Divorce, Rookie Blue, Degrassi, Derby, Ultimate Betrayal, PSI Factor, and the hit series, Being Erica, as Doctor Naadiah by Jana Sinyor and Aaron Martin, also streaming on Netflix.
Jo also enjoys their work in numerous cartoons including My Dad The Rock Star, Crash Canyon, Superwhy, Maurice Sendaks Seven Little Monsters, Timothy Goes to School, and Max and Ruby.
Jo runs workshops, and is a public speaker, having hosted numerous events including the York Film Festival, the METRAC fundraising campaign to raise awareness about domestic violence, the 10th year anniversary celebration of the Whychwood Barns, and more. 
Jo is currently writing a series of short films, a new novel, a children's book, and working on a feature screenplay.
Awards and Nominations
Won an Emmy Award for role of Maggie in Maggie's Secret, 1991, for Outstanding Performer in CBS Schoolbreak special.
Genie Nomination for Best Performance by an Actress in a Supporting Role in Love & Human Remains, 1994.
Best Performance by a Lead Actress in a Continuing Dramatic Role in
9B the series. 1988.
ACTRA award nomination for Outstanding Performance in Voice for role of Toot in animated series, Toot and Puddle. 2009.
Leslie Yeo Advocacy Award, 2019.
Margaret Trudeau Advocacy Award, 2020.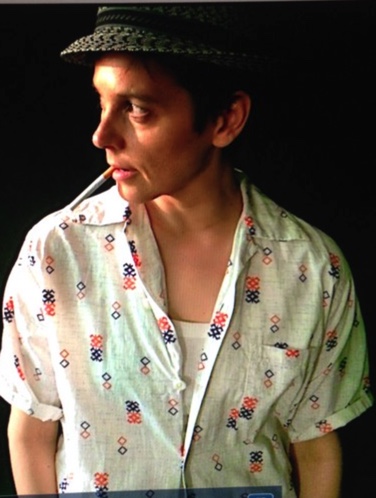 Film & Television
Street Legal, Sam, 2018.
Slasher, Amber, Season 3, Solstice, 2018.
Slasher, Renee, Season 2, Guilty Party, 2017.
Sea Change, Role of Nick Colley, Chris Grismer- 2016
Slasher, Role of Debbie, Aaron Martin – 2016
Stonewall,  Role of Sam –  Roland Emmerich – 2015
Girlfriend's Guied To Divorce, Role of Jonathon, 2015
Animal Project  Role of Morag –   Ingrid Veningar – Punkfilms 
Stardom, Role of  Rosie –  by  Denys Arcand Film
*Love and Human Remains Role of Jerri –  by Denys Arcand
(Genie nomination)
Being Erica , Role of Dr. Naadiah,  CBC  (netlix) series
Rookie Blue, Role of Jasmine  – Global T.V.
Common Ground, Role of Max – Donna Deitch film
Ultimate Betrayal, Role of Karla –  by Donald Wyre
*Maggie's Secret, Role of Maggie  – T.V. special CBS (Emmy win)
Degrassi, Role of Chef Kaz , Series
Derby, Role of Katie Woods –  Bob Clark
To Save The Children, Role of Melanie – Steven Hillard Stern                                                          
In The Dark, Role of Sadie – by Leonard Farlinger
What Makes A Family, Role of Melissa, Maggie Greenwald, USA
PSI Factor: Chronicles of the Paranormal, Role if Mia Stone, Series
*9B, Role of Mary, CBC series (Gemini nomination)
Numerous animated series and radio plays, including Toot and Puudle, Crash Canyon, My Dad The Rockstar, Max and Ruby, Superwhy, Seven Little Monsters and Gerald McBoing Boing.
For full film, television and animation list please visit: IMDB